Hello everyone! It's so weird to finally be making another post. I've been taking a little break from blogging for almost a week now! I honestly just needed a little time to wind down after posting for 25 days straight for Blogmas. It was such a great experience to blog that often and I met tons of new readers (which is awesome) but it was also a lot of work. However, I'm back and wanted to write my final post of 2017 and give a little recap of my year. There's lots of new subscribers that don't know much about me, so I think a little throwback of my year will be nice!
2017 was such a bittersweet year for me. It was a time of immense change and growth for me as a person. I'd like to be honest without exposing too much detail if that's okay. My year started off with a very heavy heartbreak. I'd never felt pain quite like this before, so learning how to handle that and cope with it was quite the process and at times it's still something I deal with. I was starting the second semester of my 3rd year of college with an amazing roommate and an unbelievable summer ahead of me. This was definitely a blessing in disguise, considering I started off the year on quite the depressing note.
Honestly that whole semester of Junior year was kind of a blur. Looking back on it, I had a pretty heavy academic schedule but can't remember much of those months. I turned 21 in March, which I suppose is an important milestone. But honestly, I'm not a big drinker so turning 21 wasn't a crazy night for me (it was also a Tuesday if I remember correctly). I went to meetings once a month to get more information about my Europe trip through my university and got a Graphic Design internship lined up for the summer. It may also be important to note that the first half of 2017 I wasn't very active on my blog. Actually, the first few years of my blog I was not very active. It wasn't until the summer that things really started to change for me online.
Finally, in May I packed up my dorm and moved back home for the summer. I had to wait about a month before heading off to London to start my European excursion! I prepared myself for the trip that month, making lists and getting everything together that I would need. Time went by slowly since I was anticipating such a life changing trip. Unfortunately a week before I left, London was hit with a series of attacks, which at one point made me question whether it would be safe to go or not. Ultimately, I decided to go and concluded that I could not live in fear. Right before I left, I decided to make another blog post and do something different when it came to the subject of my blog. I tried networking for the first time (reaching out to bloggers and trying to connect more with the WordPress community) and everything changed from there! I started to gain more readers and got more feedback on my posts. Normally, when I would post there wouldn't be much activity, nearly zero actually. I had reached some people when I first started blogging, but the less I posted, the less activity I would get. I didn't completely understand how vital it was to connect with others, but it's the most important thing you could ever do when writing a blog. Long story short, my blog started to pick up a bit and I left for London!
The next month would consist of me traveling with a large group of Graphic Design/Art majors throughout Europe, visiting five different countries and going to contemporary art museums everyday! It was the most magical month of my life and I wouldn't have changed a minute of it for the world. Even the days when I was exhausted, I've never felt that type of happiness in my life. When I got home, I created separate posts dedicated to each country individually (called My Travel Journal), which if you're interested to read more about, I will link here: England, Germany, France, Italy, Greece. After my return, I also started my month long Graphic Design internship, which was extremely professional and such an amazing opportunity.
At this point, my Senior year of college was about to begin! I moved into my first apartment off campus which is only a few minutes' drive to my school. I moved in with a couple of the kindest friends I have and we've been experiencing apartment living together, the good and the bad. There have been tiny bumps in the road, but nothing we couldn't handle together! I tried working at a new retail store during the start of the semester, it ended up not being for me, and I learned a lot about choosing what is best for your own life and your well being. Sometimes it's hard to make that choice, but especially when it comes to jobs, you have to at least be able to tolerate the place you're working. The semester had me extremely focused on my Graphic Design work and preparing for my final portfolio review (which will be in May of 2018). Again, I'll be very honest and say this semester was full of ups and downs. Some days were extremely busy and I didn't have a moment to myself and others seemed like they would never end when I got very lonely/depressed at times. I had my final grad check, and signed the papers to approve my graduation in May!
That about brings us to December of 2017. I participated in Blogmas, which as you may know is 25 days of straight blogging. It was awesome and I'm so glad I decided to take the plunge and do it! In the words of Shia Labeouf…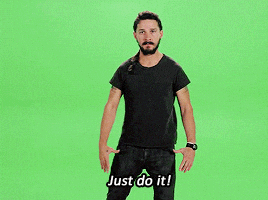 This month in particular has been a lot of growing for me mentally and emotionally. Realizing what exactly I need and want in life, making the necessary changes, and accepting it. Some things are very hard to go through, even if you know they're the right thing. That's probably been the hardest lesson for me, but I'm trying my best to do the right thing, in the most painless way possible. In 2018 I will be graduating college, moving back home, and doing research and filling out forms to go to grad school! It's going to be an extremely transitional year for me, but I am so looking forward to a fresh start. New people, new jobs, new experience…I'm ready for you 2018! Please be good to me. I'm also very excited for where this blog is headed and I have many new things planned for you guys in the coming year! I'm so blessed to be able to share my thoughts with so many people online and always receive such positivity, so thank you for being a lovely audience. This was quite the wordy post, so if you made it this far, thank you so much. That was my recap of 2017 and I hope you enjoyed, I'll talk to you all in 2018!
Happy New Year xx Sage